prof. Grzegorz Wrochna
President of the Polish Space Agency
Professor Grzegorz Wrochna serves as the President of the Polish Space Agency (POLSA). He was appointed to this position on February 18, 2021.
Prof. Wrochna is a Professor of physics. From 1986 to 1991, he served on the Faculty of Physics, University of Warsaw. During that time, he worked closely with the European Organization for Nuclear Research (CERN) and the German Electron Synchrotron (DESY) labs, in Geneva and Hamburg, respectively. From 1991 to 1998, while at CERN, he participated in the design and construction of the Compact Muon Solenoid (CMS) experiment at the Large Hadron Collider (LHC).
Beginning in 1999, Prof. Wrochna served at the Institute for Nuclear Studies, and in 2006 became the director of the Institute, following his leadership of the Astroparticle Apparatus Laboratory. In 2011, he initiated the creation of the National Center for Nuclear Research (NCBJ), and he served as its Director until 2015. At NCBJ, among other achievements, he established the Department of Astroparticle Physics, and involved the institution in several space-related projects.
Prof. Wrochna represented Poland at EURATOM, the OECD Nuclear Energy Agency, and the Board of Governors of the European Union's Joint Research Center. During 2017-2018, he served as the President of the Scientific Policy Committee advising the Minister of Science and Higher Education. During 2019-2020, Prof. Wrochna served as Undersecretary of State in the Ministry of Science and Higher Education, where his responsibilities included overseeing cooperation with the European Commission and the European Space Agency (ESA).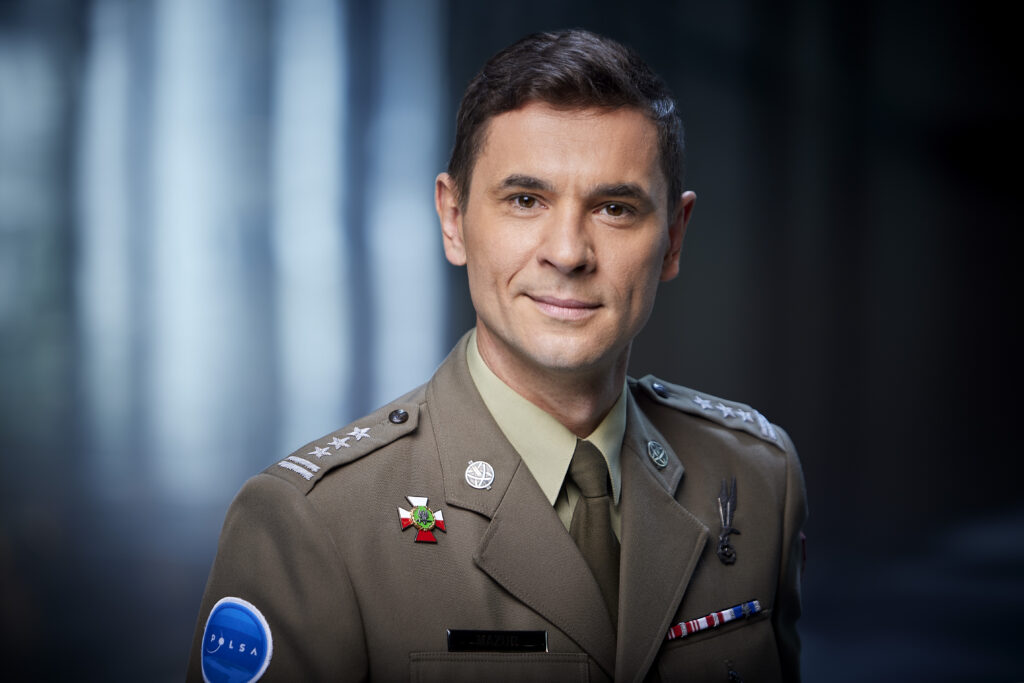 Col. Marcin Mazur
Vice President of POLSA
Col. Mazur is a graduate of the Military University of Technology, with a Master's Degree in Topography and Mapping. He completed the "GIS, Photogrammetry and Remote Sensing for Defence and Security Purposes" postgraduate studies also at the Military University of Technology.
Until his appointment, he served as the Imagery Intelligence Branch Head, at the General Staff of the Polish Armed Forces. He was responsible for the development of satellite and airborne imagery intelligence capabilities over a 15-year horizon.
He also served at NATO Command in the Netherlands, where he was responsible for geospatial security concerning NATO data, tools and command systems.
During his career, Colonel Mazur also served as Chairman of the Interministerial Task Group of Satellite Systems, established by the Ministry of Defense. He was also the Chairman of the Polish-Italian Operational Working Group for cooperation in the field of EO satellite systems- COSMO SkyMed and OPTSAT-3000. He participated in the works of the group defining the NATO Space Policy.
Aleksandra Bukała, PhD
Head of Strategy and International Cooperation Department
Mrs. Aleksandra Bukała graduated from the Warsaw School of Economics in 2001, Faculty of Management and Marketing. PhD in the area of the Management in 2014. She completed also a 1 year post-graduate course in the field of Automation at Warsaw Technical University in 2008.
Mrs. A. Bukała has over 15 years of experience as a Project- and Program Manager in the area of aerospace with a focus on automation and robotics for space applications, as well as space security and safety. Among others, she gathered her experience from research and science entities: Industrial Institute of Automation and Measurements (PIAP) and Warsaw Technical University. She worked for SENER Poland as: Business Development Manager and CEO. Then she took over the position of CEO at Creotech Instruments SA from the space electronics domain. Mrs. A. Bukała takes part in different associations, working groups and committees, like for example: National Centre for Research and Development, CAPTECH EDA GEM3, NATO, Horizon 2020 as an evaluator of applications.
With POLSA from October 2019.
Oskar Karczewski, PhD
Head of Reasearch and Innovation Department
Dr Karczewski has a scientific background with a BA and MSc from the University of Cambridge and a PhD in astrophysics from UCL (2013). Throughout a total of eight years of academic research he studied local and global star formation processes in nearby galaxies, an highly interdisciplinary research area situated at the interface between physics, chemistry and applied mathematics. He participated in several collaborations which used observational data from the Herschel Space Observatory, most notably at Commissariat à l'énergie atomique et aux énergies alternatives (CEA) in Saclay, France, where he held a personal grant. His observing campaigns include far infrared and radio observations with JCMT (Hawaii, USA) and IRAM (Granada, Spain), respectively.
In 2017 dr Karczewski made a transition to business, where he managed highly innovative Research and Development projects in areas such as sensing technologies for medicine and space, metrology and telecommunications. His responsibilities also included strategy building and business development. His projects received international recognition and funding awards in highly competitive European programmes.
At POLSA, dr Karczewski serves as the Head of Research and Innovation, where he works to support the growing space sector in Poland by creating links between the academia and the industry, by helping build cutting-edge scientific and engineering expertise, and by promoting Polish space companies on the global market.
With POLSA since 2021.
Agnieszka Gapys
Head of Information and Promotion Departament, Spokeswoman
Spokeswoman and the Director of the Department of Information and Promotion at the Polish Space Agency. Communication and promotion matters expert with extensive experience. For many years associated with public administration. Previously she worked for ex. Ministry of Economy, Industry Development Agency and the Polish Gas Company. She lectured Media Relations and Press Spokesperson workshops at one of the universities in Warsaw.
Jakub Kowalewski, BEng, PhD
Deputy Head of Strategy and International Cooperation Department
Jakub Kowalewski BEng, PhD. in ICT (WIT College of Information Technology and Management of the Polish Academy of Sciences), doctoral studies of The War Studies University. The dissertation about process of modeling information security solutions and ICT (Information and Communication Technology) systems. Working at variety of posts mainly related to advance satellite telecommunication technologies as an engineer and specialist responsible for design, managing and maintenance of surveillance and monitoring center of satellite communication systems for Armed Forces of the Republic of Poland.
Since 2016 he has been working in the Polish Space Agency in the satellite communications team. Responsible for identification and analysis of new solutions in the field of satellite communications, cooperation with users of satellite applications and analysis of the needs of the security and defence sector of the state, participation in the implementation of works related to the construction of a satellite communication system, the role of an expert for Polish delegation for the JCB program board in ESA.