ENTRUSTED
European Networking for satellite Telecommunication Roadmap for the governmental Users requiring Secure, inTeroperable, InnovativE and standardiseD services
ENTRUSTED is one the preparatory activities for EU GOVSATCOM – a new component of the European Space Programme (2021-2027). The aim of the GOVSATCOM initiative is to provide guaranteed, reliable, and cost-effective access to secure SatCom capacities and services for governmental users in Member States and EU institutions and agencies that manage safety and security-critical missions and operations, surveillance activities and operate critical infrastructures. Successful EU GOVSATCOM requires a clear definition of the users of potential services, their needs and associated requirements. It is important to ensure that future GOVSATCOM services will comply with user requirements to the maximum extent.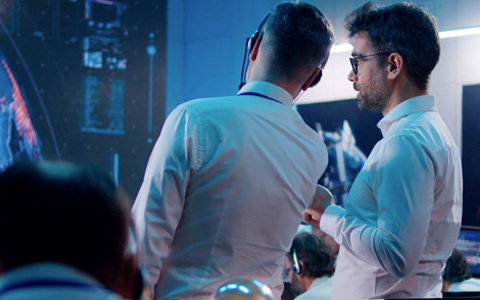 ENTRUSTED is a research project funded under the EU Horizon 2020 Research and Innovation Programme.
The project will establish a consolidated set of governmental user requirements for the EU GOVSATCOM services, review available state-of-the-art SatCom user technologies, analyse future technology trends, and identify key technological factors for the future EU GOVSATCOM, including such aspects as standardisation and interoperability. To ensure that EU GOVSATCOM services meet user expectations, the ENTRUSTED consortium will define a Research and Innovation Roadmap and Coordination plan (R&I roadmap) for secure SatCom user technology. The R&I roadmap will include the proposal of actions and indication of investments necessary to close gaps between existing and foreseeable SatCom capabilities and user requirements. Project findings will inform future regulations regarding EU GOVSATCOM operational requirements, service portfolios, sharing and the prioritisation of EU GOVSATCOM services and security requirements.
Title: European Networking for satellite Telecommunication Roadmap for the governmental Users requiring Secure, inTeroperable, innovativE and standardiseD services
Acronym: ENTRUSTED
Grant Agreement No.: 870330 — ENTRUSTED — H2020-SPACE-2018-2020 / H2020-SPACE-2019
Time frame: 30 months (September 2020 – February 2023)
Budget: ca. 3 M€

Coordinator: European Union Agency for the Space Programme (EUSPA)
FUNDING
This project has received funding from the European Union's Horizon 2020 research and innovation programme under grant agreement No. 870330.